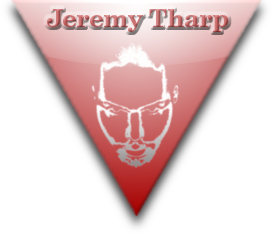 Musician, songwriter, aspiring visionary.
Share » Tharp Me!
« Previous Track: Irresponsibility
Next Track: The Forward Thinker Me »
Fourth FAWM song 2018.
Came up with the chord progression, and I really liked the tension of the Am (sus3?) with the rest of it. Playing through it I kept hearing something like "in the fall" followed by "said it in the ____ way." It's pretty common for me to hear sounds and consonants and such before filling them in with words. Anyway, I just brainstormed a bunch of variations that had those sounds in them and arranged them in a somewhat coherent way.
Like most of my songs, I would have preferred it to have a little more direct point, but it's still an interesting one to me if not repetitive.
Lyrics

Curtain call
It's the end of this absurd play
Nightfall
Is killing off this weekday
It's a fog
Setting on nice day
Once and for all
It's never gonna be changed

Last call
It's getting pretty damn late
Ethanol
Is filling in your veins

My downfall
I said it in the wrong way
Made it far
Sent it via light ray
What a fall
Send me on my way
A guffaw
It's everybody laughing

Free for all
There's seven of them make way
Through that wall
Instead of through the doorway

Down the hall
It's just beyond the stairway
What a thought
I said it in the right way

Down the hall
It's just beyond the stairway
What a thought
I said it in the right way