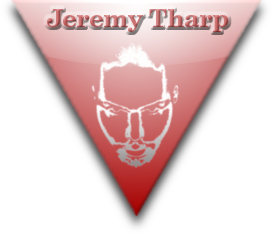 Musician, songwriter, aspiring visionary.
Share » Tharp Me!
« Previous Track: Play Something Father
Next Track: Dour »
Something how one day or two can completely change how you think your life is going. This song captures that.
This is one I visualize a certain way and can't really sing it like that. I picture it being semi-spoken, reflective, monotone -- something like the verse in Shawn Mullins' Lullaby, though that came after it was written. When writing it was an almost spoken base throughout that I just couldn't make work with my voice.
Lyrics

Chilling in my bubble completely alone
Trying to find meaning
It's really doing a number on me
At least that seems to be the way it's leaning

I've got this feeling
I'm doing something wrong
Obvious to you
While you're concealing it
Stringing me along
Obvious to you

You tell me that I'm needed to fight the good fight
Somewhere over there
Despite the fact I think I'm winning the war
Right here

I've got this feeling
I'm doing something wrong
Obvious to you
While you're concealing it
Stringing me along
Obvious to you

Once upon a time my heart was in it
Trying to find meaning
Full of life, and drive, and pumping blood
Now it's just bleeding
I'm playing along

I've got this feeling
I'm doing something wrong
Obvious to you
While you're concealing it
Stringing me along
Obvious to you