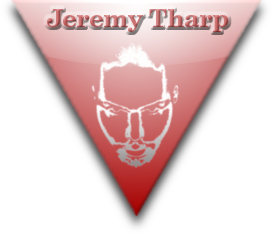 Musician, songwriter, aspiring visionary.
Share » Tharp Me!
Next Track: Up High »
A lot of you know I do a song-per day challenge. It's twice the songs, yes, but it's more an exercise in pushing myself to write, whether I'm feeling it (which rarely comes around if I don't force it occasionally) or not.
Today's is solid, but I really was uninspired. I have one line in it, though, that I really like, and I think I sang it well. See if you can figure out which line it is. :-D
The song's theme is a pretty common one for me -- time goes too fast.
Also, if you don't mind giving it a like over on YouTube, I would be incredibly appreciative.
Lyrics

I left the port on a ship full of wonder
Proud to go and face the world alone
But three nights in the thunder's rollin' and I'm just shaking uncontrollingly

I hope I live to wish that I were younger
Reminiscing on what I wish that I had known
But the wishful thinking I am holding somehow just is not consoling me

I've got the feeling I'm falling away
Going somewhere lonely and gray
I've got the feeling you know that place
And you know it's not home

Now my heart these days is only growing fonder
Of the tiny wins that I have been bestowed
The pains I've spent my life bemoaning are the best things that's what time is showing me

Of course, I surely sometimes wish that I were younger
But it's not for all things that I now know
Just that the wind is is always blowing, always pushing me away unknowingly

I've got the feeling I'm falling away
Going somewhere lonely and gray
I've got the feeling you know that place
And you know it's not home