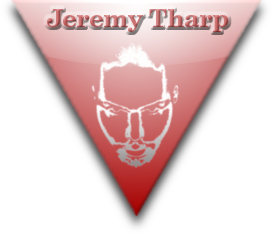 Musician, songwriter, aspiring visionary.
Share » Tharp Me!
« Previous Track: A Little Hopeful
It'd probably be convenient for me to just say this, because it's the last song, and I want to pretend I'm going out with a bang, but I'm fairly certain this is the best song I have done this FAWM.
I tried hard not to swear in it, but it just needed it. It's the right word, and it makes the song. I can't fight that. I really, really, REALLY like this one, and I hope you do too.
Regardless, thank you so much for stopping by and checking out this FAWM, and make sure you check out the rest. See you next year, if not sooner. :-D
Lyrics

Shame on you for the unsure thoughts
In your mind
We all can see you are distraught
Though you fight
Smooth those jagged edges
You can be a fucking legend
Just try
I sat there no expression
So nervous when I questioned
Them why

It just always was
We're not sure why
It's a thing that comes
With time

Shame on you for the unsung ones
In your life
We all can see the untamed pomp
In your mind
Makes good on all his pledges
Trying to be a fucking legend
This guy
But they're the ones who said it
I get no chance to edit
But why?

It just always was
We're not sure why
It's a thing that comes
With time
With time
With time

If only I could be enough to get by
Seems only I'm the one who fell for this disguise
I guess emotion best belongs beneath the eyes
It's just the notion of the life belief belies

It just always was
We're not sure why
It's a thing that comes
With time
With time
With time