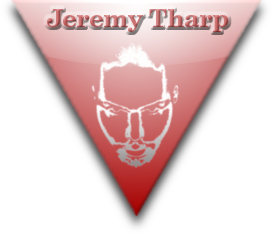 Musician, songwriter, aspiring visionary.
Share » Tharp Me!
« Previous Track: The Flood
Next Track: A Lot Like »
Day 3, a pun song. :-D
Some of this I really like, some I know will need work, but it is pretty challenging to just pun on demand, even if you're pretty much literally always punning in life.
This will be the last video, in all likelihood, until Feb. 7 when I get back from dealing with family matters.
The song is called "Get In Line" today.
Lyrics

Walking on the street I saw a man drive through a wall
He and I don't see eye to I-beam

And sailing on the ocean I saw a chest of treasures fall
God shed his grace from sea to shining c-note

Don't try to stop me
One more time
If you wanna see me out
Better get in line & wait

My friend was stranded on a desert isle no one to hear his call
Shoulda put some in money into the S-O-escrow

I'm that late night dog barking up a tree won't ever stop at all
Even if you throw that dog a TNT-bone

Don't try to stop me
One more time
If you wanna see me out
Better get in line & wait

They said my effort here was solid
I guess that means I tried too hard
But if I were standing on the sun
I'd still keep reaching for the stars
I lost my shirt playing poker
And no, it wasn't in the cards
When I say I take my time
I've probably taken it too far

Don't try to stop me
One more time
If you wanna see me out
Better get in line
Don't try to stop me
One more time
If you wanna see me out
Better get in line
Don't try to stop me
One more time
If you wanna see me out
Better get in line
Get in line
Get in line
Get in line
Get in line & wait