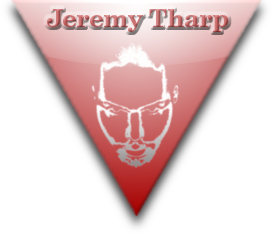 Musician, songwriter, aspiring visionary.
Share » Tharp Me!
« Previous Track: A Birthday Tune
Next Track: Tear The Mountains Down »
This one's a bit stranger, and I had to add a little studio stuff to really get the idea across. The lines "It's getting cold but I've a coat" and "I'm getting old but I've a note" came to me one morning as I woke up, and over the last couple of days they have kind of worked into a thing.
If this song is not about insanity, I don't know what is. That's been kind of a theme this FAWM, which I find interesting.
I think this song actually has a lot of potential once it's in the studio, but I hope you enjoy this debut!
Lyrics

Ha ha ha ha ha ha ha ha ha ha ha ha
Ha ha ha ha ha ha ha ha ha ha ha ha
Ha ha ha ha ha ha ha ha ha ha ha ha
Ha ha ha ha ha ha ha ha ha ha ha ha

It's raining hard but I've a boat
It's getting cold but I've a coat
And I think I should be searching for gold

I'm getting old and I've a note
That the head schoolmaster wrote
Telling me to always do what I am told

You don't get to tell me what to do
I'm iconoclastic through and through
You paint it red I paint it blue
I don't believe what you're telling me's true

Ha ha ha ha ha ha ha ha ha ha ha ha
Ha ha ha ha ha ha ha ha ha ha ha ha
Ha ha ha ha ha ha ha ha ha ha ha ha
Ha ha ha ha ha ha ha ha ha ha ha ha

I've gone too far but I have hope
I see the stars but I can cope
Even if fortune favors not the bold

As I unfold the envelope
Start sliding down that slippery slope
Heeding words so I can break from their control

You don't get to tell me what to do
I'm iconoclastic through and through
You paint it red I paint it blue
I don't believe what you're telling me's true