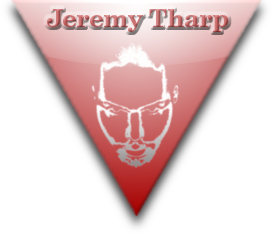 Musician, songwriter, aspiring visionary.
Share » Tharp Me!
« Previous Track: Second Born
Next Track: Hear Me Roar »
This one was intentionally an attempt to just flow with whatever comes out, no matter how ridiculous. I sat down, played some chords, and "Seven monkeys walked into a bar" came out ...
As I messed around with it, it started becoming a story song, but it also started to develop some racial undertones which I didn't intend nor did I feel feel were something I could do service to, so I changed it to "Seven puppies." Then, it became a song about joke cliches and unfinished jokes in general.
I kind of enjoy it, but I am not sure this is going to win any songwriting contests. ?? Unless ... ?
Lyrics

Seven puppies walk into a bar
Bartender says we're closed until tomorrow
One puppy says but the sign says open late
That's relative he says we're completely out of grapes

The seven puppies wait until tomorrow
This time they walk right in dressed up like movie stars
Bartender says hey don't I know you from somewhere
One puppy says you know it's not polite to stare

Seems there oughta be a punchline
But it isn't written anywhere
Maybe you can be the one who finds
A little bit of wisdom hidden there

This scene has gotten pretty strange
The seven puppies dressed to the nines
Maybe a lightbulb needs changed
Or I've got something in my eye

Suddenly there's a knock upon the door
A chicken's on the other side
He asks about a group of baby yellow labradors
Their mama's worried herself blind

Seems there oughta be a punchline
But it isn't written anywhere
Maybe you can be the one who finds
A little bit of wisdom hidden there

Seems there oughta be a punchline
But it isn't written anywhere
Maybe you can be the one who finds
A little bit of wisdom hidden there