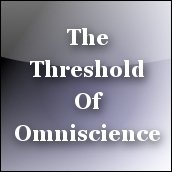 Album Title: The Threshold Of Omniscience
Completed: January 8, 2010
This album came about as a mutual challenge between Phil Taylor and I. We decided in October 2009 that we needed to each write and record a new album before the first of January 2010. I knew I wouldn't have time for studio production, but I hit the challenge of the writing, and I recorded all the songs acoustically as a podcast. Polished recordings are likely to arise sporadically in the future, but to me the songs really speak for themselves. They are some of my best to date, and they are certainly the best batch of songs written so closely together.